Brings Your Pigeon Racing to a Whole New Level with AviRings GPS Tracking Ring
If you have been a fan of pigeon racing for a while now, you already know how exciting it can be, but we've got some great news for you: we've got something that will bring the excitement to a whole new level. The AviRings GPS Tracking Ring features state-of-the-art technology that will not only improve your pigeons' racing results, but also guarantee a lot more fun in pigeon racing. Are you ready to find out more?

How Does the GPS Pigeon Ring Work?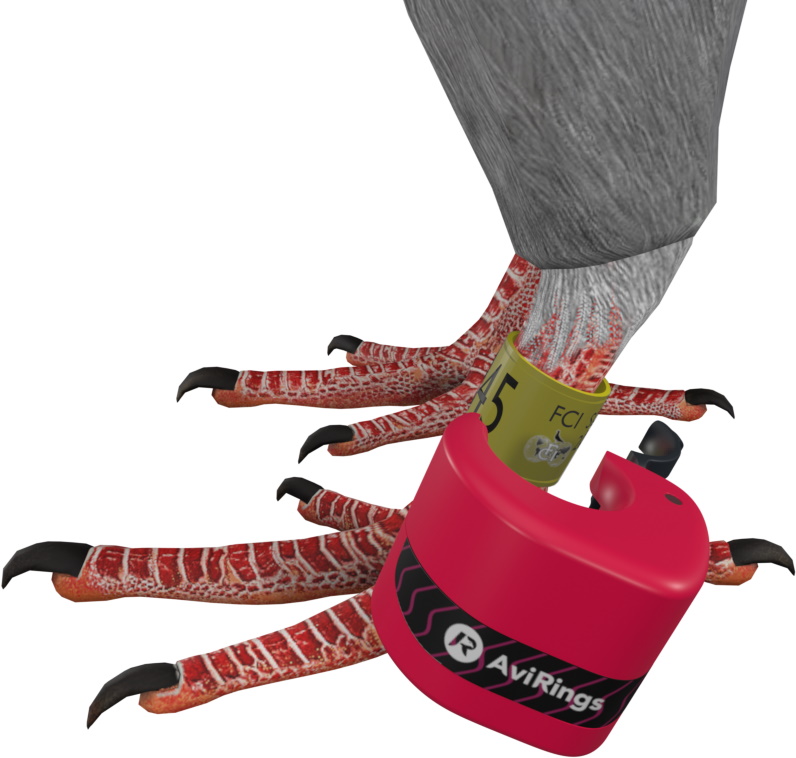 GPS pigeon tracking is a brand new technology that isn't widely used in pigeon racing yet, but we are sure that once you get to know it better, you will not be able to imagine pigeon races without it. Our innovative pigeon rings will enable you to track the route, height and speed of your pigeons, so that you can analyse it as soon as they return to the loft. All this data will provide you with a unique opportunity to observe the way your pigeons overcome natural obstacles and find the leading members of your flock. This will enable you to identify the future champions that will go on to collect victories at pigeon races.
Superb Materials and Reliable Technology
A high-quality GPS transmitter paired with a reliable battery, produced to the highest German standards, that can record flights for more than 10 hours guarantee a smooth and exciting experience. Once the pigeons are back in the loft, you can easily access all the data on your smartphone or tablet using a Bluetooth® connection.
Easy to Use and Pigeon-Friendly
Our AviRings GPS Tracking Ring features aerodynamic shape and weighs only 3.9g, making it the world's lightest GPS pigeon ring, so it won't hinder your pigeons on their flights or make them uncomfortable. The AviRings GPS Tracking Ring is also easy to install and remove, while its precise locking mechanism will prevent loss of the ring during flights.
The ring also helps keep your pigeons safe; the special red colour of the tracking ring distracts birds of prey and protects your pigeons.
See the New AviRings GPS Tracking Ring in Action
The all-new AviRings GPS Tracking Ring will be the star of the AviRings Derby 2022, the first one loft race in Europe to use GPS tracking technology for pigeon racing. This will be the first event of its kind in history and it would be a shame to miss it!
The event will take place in the idyllic Prekmurje region of Slovenia and will feature 24/7 live stream from the loft, loft darkening in the training phase and pigeon separation in the competition phase. However, the main star of the show will be the GPS tracking ring.
All activated pigeons in the AviRings Derby 2022 races will wear a GPS tracking ring, enabling all participants to track their pigeons' flight and analyse priceless data recorded by the tracking rings. All this will add to the excitement of the one loft race, but that's not all – there's also an additional bonus for all participants in the AviRings Derby 2022: they will receive a discount for purchase of the AviRings GPS Package in 2022.
More Data and More Fun!
All one loft races offer a wide set of information for the participants, but this unique derby also brings you this never before seen data about your racing pigeons:
flightsanalysis for the fastest pigeons on the AviRings Derby 2022 races,
statistical data based on the information from the tracking rings for each individual race,
interesting facts and features that have been observed in individual pigeons.
Interested?
Visit the official AviRings Derby 2022 website to find out more about the event and sign up to participate in the one loft race. We look forward to welcoming you to the AviRings Derby 2022 and creating history together!